06/09/2019 10h57 • Lu 1120 fois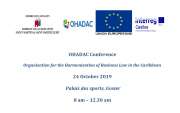 The ACP Legal association is pleased to announce that a first conference on the future OHADAC Arbitration and Mediation Centre (the "OHADAC Centre") will take place on 24 October 2019, in collaboration with the Bar association of Guadeloupe, Saint Martin and Saint Barthelemy.
The OHADAC Centre is scheduled to start its activities in 2020, thanks to the allocation of funds from the European "Interreg" program for the Caribbean region.
This conference will bring together Caribbean lawyers, members of the Caribbean business community and representatives of the institutions supporting the OHADAC project. Our panelists will discuss the expectations of the Caribbean players in the field of arbitration and mediation, the goals that will be served by the future Centre and the services it will propose.
This event will take place in the context of the "Challenges of the Bar association of Guadeloupe, Sint Martin and Sint Barthelemy" (17 October-26 October 2019). It will start on the day following the closing of the training in International arbitration, and just before the opening ceremony of the sports games between Caribbean Bar associations (24-26 October).
The preliminary program of the event is attached (cf. pp. 8 and 9)
We hope many of you will be able to join us in October.
For additional information, you are invited to contact Marie-Camille Pitton at the following address: marie_camille_pitton@yahoo.fr
Source : www.ohadac.com