06/09/2019 10h56 • Lu 967 fois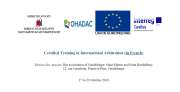 The ACP Legal association is pleased to announce that several important events will take place in October 2019, in cooperation with the Bar association of Guadeloupe, Saint Martin and Saint Barthelemy.
Thanks to the support of Bâtonnier Charles Nicolas, President of the Bar association of Guadeloupe, Saint Martin and Saint Barthelemy, the ACP Legal association is currently organizing a first training in International Arbitration from 17 to 23 October 2019 in Pointe-à-Pitre, Guadeloupe.
This five-day training will be led by Prof. Sixto Sanchez Lorenzo, Professor at Grenade University (Spain), who has coordinated the drafting of the OHADAC Principles on International Commercial Contracts; Prof. Jérémy Jourdan-Marques, Professor at Antilles University (French West Indies); Me Jacques Darche, Avocat registered at the Quebec Bar and Marie-Camille Pitton, Avocat registered at the Versailles Bar, Attorney at law (New York) and Consultant for ACP Legal.
This 38-hour training will cover the following topics: Fundamentals of International Arbitration (3 days); Practical case study (1 day); Drafting an arbitral award (1 day).
The cost of the training is 500 Euros.
Please note that the training will take place in French.
You will find attached the detailed program of the event (cf. pp. 3 - 7).
This training will be followed on 24 October by a conference on the future OHADAC Centre for Arbitration and Mediation, and the Caribbean bar associations' Sports Games (24-26 October 2019).
For additional information you are invited to contact Marie-Camille Pitton at the following address: marie_camille_pitton@yahoo.fr
Source : www.ohadac.com